William Hill Plus Card Benefits and Login Advice
The William Hill Plus card has been introduced to act as a bridge for online and offline betting at William Hill. But why would you want to pick up the William Hill Plus card? For starters, there are no minimum bet limits or monthly fees.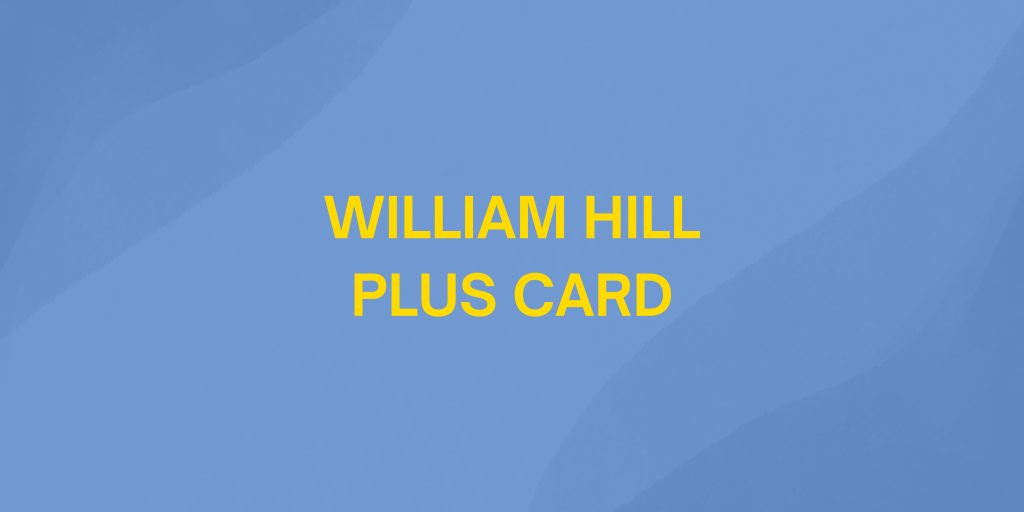 The Plus Card is a free card you can use that is valid 365 days of the year and it works both online and offline.
Read our guide below on all the information you will need about getting and using the William Hill Plus card as well has how to get William Hill free bets.
This all means you could place a bet at home on your tablet, go to one of William Hill's thousands of high street shops in the UK and cash in for free.
The next time you are placing a bet on William Hill you could take advantage of their mobile app to make a bet from your iPhone/smartphone/tablet and again, cancel out any fees by cashing in.
How do I get a plus card on William Hill?
It is a very simple process to get a William Hill Plus Card, but there are a few things you need to to get one.
The first step is you must first sign up for a William Hill account, which can be done through the official William Hill website.
This is a quick and easy thing to do, as the entire process from start to finish can be completed in a matter of minutes.
Once you have entered a few personal details such as address and relevant identification documentation you are pretty much good to go.
What is a William Hill Plus Card?
The William Hill Plus Card lets you make deposits or withdrawals from your current account in any William Hill shop across the UK.
You'll need a 'Plus' card to pay for all purchases at William Hill, plus you can deposit and withdraw using the card too. Its your key to exclusive money-saving deals, fast track entry into sporting events, and VIP access to exclusive events.
With it, you don't have to keep going in and out of the shop – just manage your bets using the Plus Card app.
Is William Hill Plus card free?
Yes, the William Hill Plus card is a free physical card that can be used for taking winnings out of your account and manage your online betting account in store.
The card can also be used to take advantage of exclusive offers and promotions. To get started, simply register for a free account on the William Hill website and then request your Plus card.
Once you have received your card, you will need to activate it by funding it with an initial deposit. After that, you're ready to start using your Plus card to place bets and withdraw winnings at any William Hill shop.
How does William Hill cash direct work?
William Hill cash direct is a convenient way to withdraw money from your account without having to go through a bank.

All you need to do is select the amount you wish to withdraw from your account and a voucher will be generated with that amount. You can then take this voucher to any William Hill store and receive the cash you withdrew.

This service is available 24 hours a day, 7 days a week, so you can always get your hands on your cash when you need it.
How do I top up my William Hill account?
Your next step is to make your deposit. William Hill Online offer a number of online banking options that can be used, which include the use of a debit or credit card and bank transfers too.
Remember, if you ever have any trouble using one of these payment methods you can get in touch with the William Hill customer support team, who are usually more than happy to help, anytime of the day.
How do I claim my William Hill winnings?
If you're tired of waiting several days for your William Hill winnings to hit your account, the Plus card is a great way to get money back into your account much more quickly.
If you register for a Plus card and link it to your online account, any digital winnings can be redeemed by visiting your nearest shop, presenting your ID and Plus Card at the counter, and requesting your winnings, which makes for a much quicker process.
What is the enter code?
William Hill doesn't offer the sports welcome offer to everyone so you will have to dig around for an enter code.
If you want to claim your bonus for sportsbook, you need to use the promo code Sport50. The bonus code will work only once per customer and on a first deposit. It represents 50% bonuses up to £50 in case you opt for the William Hill welcome offer.
All you have to do is register with William Hill, make a deposit and use the promo code. Please do this in a responsible manner and follow all the terms and conditions outlined in the William Hill website.
How do I cash out using my plus card?
The Plus app is one of the best features of the William Hill gambling platform.
The feature lets you cash out early on your wagers in William Hill's high street betting shops, turning them into match odds bets.
For example, say you use your Plus card to put down £10 on 7.0 odds for a chance to win £70. Tapping this button will immediately settle your bet and release the funds into your account.
Overall, the cash-out option is one of the Plus Card's main benefits. It takes away the burden of making tough decisions about where and how to place your bets.
What is William Hill plus app?
William Hill has always been tone of the most popular UK betting operators and as such they have a reputable and as expected fully regulated app for you to download and use.
They were one of the first in the industry to introduce a mobile app and one of the first to offer a cash out card service.
The latest addition is an application designed for use by punters who have signed up to the William Hill Plus card .
This new mobile app offers yet more convenient features to make betting even easier, including check-in and cash-out options.
In addition, William Hill recently announced their new cash-out app option for card holders. This card can be used with the cash out service that allows you to get your winnings at the press of a button.
All you need to do is scan in the QR code provided by the staff in any William Hill betting shop, as well as scan your QR betting slip, and your winnings will be paid out.
How much is the card?
The William Hill Plus Card is free to punters. It gives you endless convenience and allows you to withdraw up to £300 on a daily basis from any William Hill shops or ATM machine. You simply swipe the card at the till and your cash is instantly credited to your account. Or if you prefer, withdraw money at an ATM and enter your pin number.
Of course, with the Plus Card, you will also enjoy all the perks of being a William Hill customer so when you join today, you can also get a Plus Card offer, which currently is a free £10 bet.
How do I activate the card?
Signing up for a new William Hill Plus Card is not all that difficult, but you do need to follow a few steps in order to get your card activated and working as soon as possible. First, you need to sign up for the card, which can be done at any William Hill shop in the UK or online through the William Hill official website.
The next step is to go in-store and verify that you are a current William Hill customer, which is done just like purchasing any other product through the bookmaker – through a simple tap of your card against the betting retail terminal. Your card will then be activated.
Benefits of using the Plus card
Cash-out can be a really great thing to have at your disposal. It's perfect for when you saw something in the news or on Twitter that made think "I wish I could bet on that", but by the time you get down to your bookmaker, the game or event you wanted to place a bet on has already started or finished.
You end up going home empty handed and kicking yourself for missing out.
You can save the hassle of carrying cash and cards around by using your mobile to get your bets on with William Hill.
Just enter your Plus Card details into the app, and you are good to go. There are many benefits of using the Plus card, such as withdrawing funds from your online account in shops at any William Hill shop, 'betting' with your funds in shops, cashing in shop bets on mobile, getting exclusive offers and promotions from William Hill directly and much more.
Are there any offers I can claim?
There are a few offers you can claim using the William Hill Plus card. Creating a new account at William Hill is worthwhile even if you're only interested in the bookmaker's online offerings. Provided you deposit at least £10, and opt for the "Plus Card" when prompted, you will receive £30 to spend on sports betting and other casino activities just for signing up. And that's not all: your first deposit will be matched immediately with a 100% bonus.
Although the specific terms and conditions of this offer may change once in a while, we don't expect this promotion to change anytime soon.
What if I lose my Card?
If you have lost your William Hill Plus card the first thing to do is to unlink the card from your account for security reasons. You can do it via the ' Account ' menu option in the William Hill Plus App. You can then request a new card in a William Hill shop and register it via the normal process. It should arrive within the next 3-4 weeks of ordering.
What is a William Hill Card?
A William Hill Plus card is a physical card you can use to link your offline betting with your online betting account at William Hill. This means you can manage your William Hill account outside in a Hill's betting shop.
Its very simple to cash out on William Hill Plus. You must visit the William Hill website, find your bet and select the cash out button if it is available.
How do I claim my £10 free bet on William Hill?
The William Hill £10 free bet is Cheltenham festival free bets offer provided by William Hill bookmaker as an incentive for new customers to sign up. It is released every so often so keep updated by visiting the William Hill promotions page.
What is the Plus Card App
The William Hill Plus Card App manages your online betting account at William Hill bookmaker. It can be downloaded from the App store on Apple or via the google play store if you have an android device.
The enter code is a promotional code which gives new users of the William Hill website a free bet, which normally has a value of around £10.
What is the sign up offer?
If you are using the William Hill website for the first time then you can claim a sign up offer which does vary. At the moment it is Bet £10 and get £30 but you must read the terms and conditions before signing up.
I have William Hill plus problems – what can I do?
If you have a problem with the William Hill Plus card you can visit your local William Hill store in the high street. Or you can contact customer support which is available via the chat function on the William Hill website.
The William Hill Plus Card is a very convenient option to play at William Hill online and in the bookmaker shop. It was introduced with the objective of making it easier for customers to place bets and make withdrawals on their mobile devices, whilst also increasing security and convenience within the William Hill company.
Although it is recommended to open an account with William Hill when you join, you can withdraw money from your account without opening an account first.
However, the Plus Card offers a very convenient way of cashing out in-shop if you don't want to go through the hassle of sorting out your bets on your smartphone.
If you have a William Hill account the card comes highly recommended.