Odds Shorten on Manchester United to swoop on Leicester duo James Maddison and Ben Chilwell in bid to save season
Following Manchester United's shocking start to the Premier League season, the Red Devils have identified Leicester City duo James Maddison and Ben Chilwell as transfer targets for the January transfer window.
Both players could make a huge difference to Ole Gunnar Solskjær's side with United lacking quality options in the positions that both players play in.
James Maddison has been heavily touted by many top clubs –  and rightly so. Following his brilliant Premier League debut campaign last season, Maddison had piqued the interest of Premier League's elite.
Liverpool, Arsenal and Tottenham Hotspur were, and might still be, interested in the English international but it is United who have been leading the race for his signature.
It looked inevitable at one point that the creative midfielder would sign for United in the summer
However, Ed Woodward did not seem to pursue the 22-year-old as he pushed to sign his then-Leicester teammate and defender Harry Maguire for an incredible £80m.
Therefore, Maddison remained with Brendan Rodgers' side and has already reminded the top clubs as to what they are missing out on.
He has contributed to four goals in his seven appearances in the league – two goals and two assists with a crucial stunner against Spurs being the highlight.
James Maddison Next Club Odds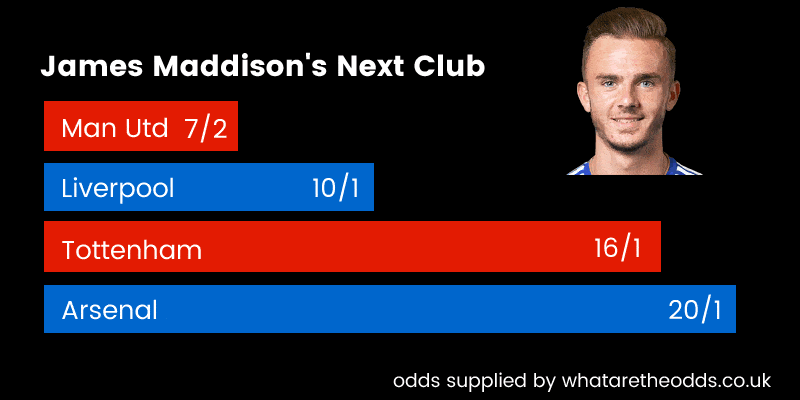 With United missing their creative spark in Paul Pogba due to injury, Solskjær's side have failed to be prolific in attack.
Therefore, it is easy to see why the Red Devils have targeted Maddison as he would be an ideal candidate to fit the Pogba shaped hole.
Ed Woodward has also identified the midfielder's English and Leicester compatriot Ben Chilwell as they look to sure up their defence even further.
Like Maddison, Chilwell impressed last campaign, causing the top clubs to keep tabs on him.
Manchester City were said to be heavily scouting the left-back as they looked to replace the injury-prone Benjamin Mendy with a player with great Premier League experience.
The 22-year-old is solid defensively and has an abundance of pace to help him recover. Yet, it is attacking quality that has impressed fans and opposition alike.
Leicester struggled early on last season under former manager Claude Puel as his defensive football did not suit the squad and Chilwell was one of the players that could not thrive in that system.
This became clear when Brendan Rodgers replaced the French manager. Chilwell did produce moments of magic under Puel but reached another level under Rodgers.
In nine games at left-back under Rodgers, the English international managed a great tally of two assists. Comparing that to just three in 28 under Puel, it highlights that Chilwell was hindered in the early part of the season.
Both Manchester clubs certainly agreed as they were both the front runners for the pacey defender's signature.
United, however, do need him more as they currently play 34-year-old Ashley Young at left-back. The Red Devils captain was a former winger and with Luke Shaw suffering from consistent injury problems, Solskjær needs to upgrade in that position.
Both Maddison and Chilwell also meet United's new transfer recruitment policy that has been implemented under the new Solskjær regime. The summer signings of Maguire, Aaron Wan-Bissaka and Dan James were the start of United buying young British talent – something the Leicester duo fit in with.
They also massively improve a side that has currently only won a measly two games out of eight and have even suffered in the Europa League. A winter transfer window splash on both players might be needed to resurrect the poor form and performances that Solskjær's side have shown.